On July 11, 2021, the Zhaoyi Innovation Cup of the China Postgraduate Innovative Practice Series Competition, the 16th China Postgraduate Electronic Design Competition Arm Cup Shanghai Division Competition, successfully concluded in our school. Organized by the School of Engineering, a total of 343 teams from various universities in Shanghai participated in the competition. The scale increased by 34% compared with last year, a record high.
Since the preparation of the competition, teachers and students of the School of Mechanical and Electrical Engineering have attached great importance to the competition, and conducted a series of lectures before the competition, instructing participating graduate students in the topic selection of the electric competition, precautions for the competition, and sharing experience. The college organized a total of 38 graduate students to participate in the competition. , Accounting for 11% of the total participating teams. Each participating team actively negotiated topic selection, design plans, and finished products with the instructor. Under the guidance of the instructor, they were not afraid of hardships and actively prepared for the competition. They kept debugging, improving, polishing, and perfecting the entries. In the fierce competition among universities, East China Normal University and other colleges and universities, our school finally won 8 teams won the first prize, 10 teams won the second prize, and 9 teams won the third prize. Good results and fruitful results! Among them, the entry of 5G Cloud Fitness Team Fitness Equipment without Weights Based on 5G Cloud Control represents the college's advancement to the national finals. This electronic research competition fully demonstrated the scientific research style and innovation ability of our graduate students, and many entries were highly appreciated by the evaluation experts of universities and enterprises.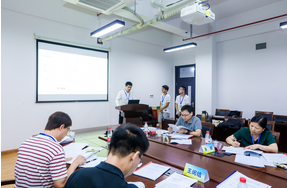 As one of the iconic events with the highest level and the widest range of participation in the series of innovative practice competitions for graduate students in China, the electronic research competition is an important measure for the cultivation of graduate students' innovative ability. The Faculty of Mechanical and Electrical Engineering has always attached great importance to the cultivation of graduate students' innovative and practical ability. This competition provided a stage for the majority of graduate students to demonstrate their style, and also tested the effectiveness of the training of graduate students in the college and the school. In addition, the hosting of this research competition has had a significant and far-reaching impact on enhancing the influence of the mechanical engineering discipline of our school in the academic world and society. It has a significant impact on the reform of the college's graduate training mechanism, the improvement of graduate students' innovative and practical capabilities, and the development of in-depth integration of industry, academia, and research. In order to actively promote the role, it provides favorable conditions for exploring the establishment of a coordinated education mechanism for the integration of production and education and the precise docking of the industrial talent supply side.