In order to promote the spirit of craftsmanship, show the demeanor of model workers in the new era, realize that professional education and ideological education go in the same direction, and improve the effectiveness of practical education, on the afternoon of March 30, the School of Mechanical and Automotive Engineering invited national model workers and the winner of the Chinese Skills Award, 2016 Shanghai Craftsman-Chief Welding Technician of China Shipbuilding Corporation and Chief Technician of Hudong Zhonghua Shipbuilding (Group) Co., Ltd. Zhang Yifei came to the school as a guest in the Yangtze River Delta Lecture Hall of our school and gave special lectures to teachers and students of the school. Wang Dongyang, deputy secretary of the party committee of the college, presided over the lecture. Dean Zhang Hua and student representatives from various departments of the college attended the lecture.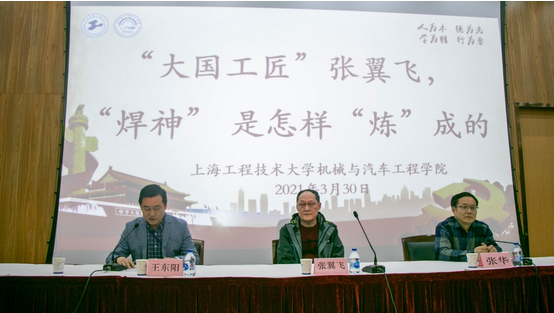 Based on his more than 40 years of professional experience, Zhang Yifei talked with his classmates about his valuable experience in personal growth and team teaching. In his sharing, the students saw how a young man has gradually grown from a technical novice to a technical expert and a large country craftsman through continuous thinking, continuous trial and error, continuous summary, and continuous practice. Zhang Yifei warned the students to be dedicated to their posts, to have selfless dedication, and to calm down to do their job well. Only in this way can they grow faster, go further, and do better. Zhang Yifei also interacted with the students and answered their questions about professional interests, career development, and technical research.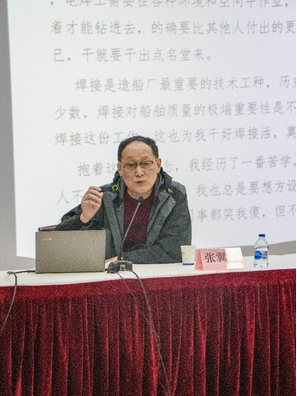 The lecture aroused a strong response from the students, and they all said that the lecture gave them a deep understanding of the spirit of doing one's own business, loving one's own business, and dedicated to one's own business. In the future study, work and life, they will take the initiative to inherit the spirit of craftsmanship, continue to draw spiritual nutrition from craftsmen from great countries, temper their ideological qualities, cultivate labor wisdom, consciously establish the life ambition of becoming talents and serving the country, and be the inheritors of the craftsman spirit , Practitioners and innovators, contribute to the realization of the Chinese dream of the great rejuvenation of the Chinese nation.
The magnificent blueprint for the 14th Five-Year Plan has been laid. The School of Mechanical and Automotive Engineering hopes to promote the spirit of craftsmanship to guide the teachers and students of the college to consciously achieve ingenuity, craftsmanship, craftsmanship, craftsmanship, and craftsmanship. Cultivate more high-skilled talents and craftsmen from great powers. In the new journey of building a socialist modern country in an all-round way, we will brave the wind and waves, forge ahead, make contributions for a long time, make achievements and create brilliance.